Residential Living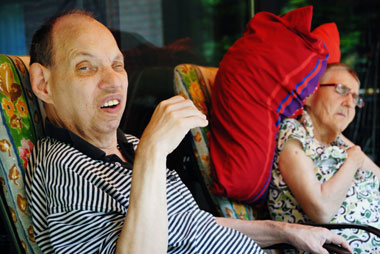 PrimeCare, Inc. operates group homes across Connecticut licensed as Community Living Arrangements by the CT Department of Developmental Services. The individuals living in these well-managed community based homes enjoy a safe, loving family atmosphere with spacious, wheelchair-accessible kitchens, bathrooms, living areas and entryways. The homes have been enhanced with specialized health and safety accommodations such as built in sprinkler systems, whirlpool baths, specialized wheelchair shower rooms, as well as many other amenities based on the individual's specific independent living needs.
Qualified, professional staff members support and encourage residents to challenge themselves and reach for their goals. The support team, which can include family members, friends, therapists and nurses, work with the individual to help them develop an annual service plan with goals to gain independence in all areas, and to become the best person they can be. By providing daily guidance and gentle teaching, dedicated staff members help the resident to become independent in activities of daily living and to maintain an improved quality of life.
Residents are encouraged to use decision making skills to plan their own daily routine, which may include sharing household responsibilities, such as meal planning, grocery shopping and cooking. Each individual chooses to spend their leisure time on a variety of activities, both within the group home and out in the community. Many varied opportunities are provided, and extra attention is given to encouraging residents to establish and maintain social/personal relationships within their community.